'HIV Positive' Dating Sites*
Along with HIV Passions (the site you are on now), the sites listed below all focus on connecting HIV+ singles with other singles who understand and accept this issue. The sites listed below range from those focused on HIV Positive dating to others focused on HIV+ singles chat. The primary goal though is to connect Poz people with other singles online. Each site, regardless of the company running it, shares many of the same characteristics as many of the other sites. So, if you are looking for a great dating site focused on dating while HIV Positive, then there are a LOT available. Look below to find the one that seems like the best fit for you.
NOTE:
NO online dating site is 100% safe. Whenever joining any site where sensitive information is shared, do so as if the information listed will inevitably be made public. To safeguard privacy issues: 1) choose a unique username on every site you join 2) use a unique email address that is ONLY used on sites where sensitive information is shared (so that if that email is hacked, there is no connection to you that can be identified or associated with any other site you visit) 3) do not use a photo that is already online and can be found using any online reverse image tool (or instead, use a cartoon Avatar to represent yourself until you have built up trust with someone...and then only share non-sensitive unique images that are not already online). Basically, especially on this site and every other online dating site, be extremely cautious with the information provided because no site is 'hack-proof'. The largest sites/companies, including social networks, banks, hospitals, etc have been hacked, so always behave as if the site you join might end up being hacked. That being said, being HIV+ no longer has the negative stigma it once had. It is virtually as treatable as diabetes. If you feel that your life would be negatively impacted by this type of information being made public, then do not join the site you are on, or any site below, because again, no site is 'hack proof'.

Loving With HIV
Where HIV+ Singles Meet Online
HIV+ and 'undetectable'? Loving With HIV is an online dating site for HIV Positive singles who aren't interested in having 'the talk' and trying to explain what it means for the virus to be 'undetectable'. If you are HIV+ or you are open to a relationship with someone who is undetectable, Loving With HIV may be the site for you!



AD

HIV Personals
Embrace Life and Love at HIV Personals
Don't give up on enjoying life and love just because you are HIV+. Join HIV Personals and don't miss out on the joy that meeting other people could bring to your personal life! Dating someone with HIV is easy with HIV Personals!

HIV Dating Service
Start searching the 1000's of HIV Singles in your area today!
Being HIV positive does not mean you should give up searching for true love - it may be a bit harder to find it, but HIV Dating Service is here to help you with your search.

HIV Dating Online
Join HIV Dating Online and Meet HIV+ Singles Looking for Romance!
"HIV Singles Around the World No Longer Have to be Embarrassed or Scared to Date. HIV Dating Online Has Created a Dating Community to Help HIV Positive Singles Find Someone to Love."

HIV Dating Connexion
HIV Positive Singles
With HIV starting in the '80s, it is no wonder that there would be a (significant) number of online dating sites built specifically for HIV+ singles who are interesting in meeting others who are dealing with this issue. As science progressed through the years, becoming diagnosed with HIV became less of the death sentence it was initially to where it is now simply a manageable annoyance that barely impacts the day to day life of those who have it. One of the biggest issues with it is just having to let others know about it. If they are educated, they might understand what 'undetectable' really means, but nevertheless, it can be stressful to have 'the talk'. If you would like to avoid that issue, then join HIV Dating Connexion and surround yourself with HIV positive singes who understand and who will not be judgemental (for obvious reasons). Join for free and have fun!

Positive Singles
STD Dating Site With Over 2 Million Members
While Positive Singles is not solely for HIV+ singles, it is for anyone and everyone dealing with virtually any STD, including HIV. You can feel comfortable on a site that where STD's are acknowledged as 'just part of life'. No stigma. No judgement.
AD

HIV Chat City
Keep Things Positive with HIV Chat City
Chat with people online who are interested in who you are and not the fact that you caught a virus, that is completely manageable now. The members of HIV Chat City are looking for quality connections and the fact that someone is HIV+ is irrelevant.

STD Planet
Find new partners on STD Planet!
Don't let your diagnosis or current medical predicament stop you from building your future with someone new. Herpes, HIV, HPV, Chlamydia - no matter what cards life has dealt you, leave them aside for now and start living your life to the fullest at STD Planet! People on STD Planet understand because they are dealing with the same issues!

Black HIV Dating
Meet Local HIV Singles!
The black community has been disproportionately affected by the HIV epidemic. To attempt to help address that issue, Black HIV Dating has been designed to connect black HIV+ singles with others. If you are black and HIV+, don't give up on love. Start looking for it here.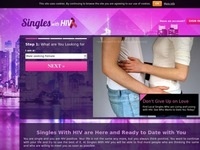 Singles With HIV
Don't Give Up On Love
Times have changed. HIV is now a manageable condition. The depression and stigma that used to be attached to being HIV+ is only there if you allow it to be. It certainly isn't part of the Singles With HIV site. Join and meet someone special.

Gay HIV POZ Dating
Find HIV+ Gay Singles Here
Since HIV doesn't discriminate, there are MANY HIV+ online dating sites for members regardless of their sexual orientation. Gay HIV POZ Dating was designed to help HIV+ gay singles mingle in their own site.
AD
POZ Personals
Get Started Today And Find Your HIV+ Match
POZ Personals started small as part of POZ magazine, but over time it has grown into a great place to meet other HIV POZ individuals.
*Sites listed on this page are a combination of ads, affiliate related Sites and general non-partnership related sites that match the theme of HIV Passions.